Duly Noted
Update The library ceased publishing Duly Noted in 2015 due to limited staff resources. Instead, we highlight new and noteworthy titles from our collection on our library catalog homepage. Our Featured Titles display on the library catalog is updated monthly and points you to noteworthy titles on the web, in print, and e-books available through our Digital Collection. This page now serves as an archive of our previous issues of Duly Noted.
---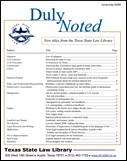 To help keep library patrons aware of the library's collection, the State Law Library used to publish Duly Noted, a library newsletter highlighting new and noteworthy titles, every two months. Items featured in Duly Noted included a sampling of recently received books, reports, and documents.
Previous Issues
2014
2013
2012
2011
2010
2009
2008
Adobe Reader or other PDF software is required to view the PDFs. Download the free Adobe Reader.