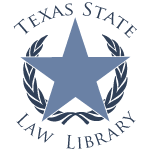 Monday, April 15, 2013
The library is a great resource for historical Texas statutes. Gammel's Laws of Texas includes session laws from as far back as 1822. The library also has the official Texas statutes in print, first published in 1879. Prior to 1879, we have copies of many unofficial versions of the Texas statutes such as Paschal's Digest. For case law on a particular statute, we have Vernon's Civil Statutes and Texas Codes Annotated dating back to 1925 and bound volumes of Vernon's pocket parts from 1982 to present. For more information, see our Historical Texas Statutes and Constitutions legal research guide.
Performing legislative histories can be difficult; however, librarians can provide in-person reference assistance and the library also has a document delivery service. Contact us at (512) 463-1722 or submit a question using our Ask a Librarian service for more information.