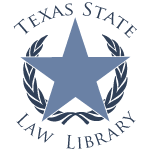 Monday, June 10, 2013
When researching a legal topic, we often suggest that folks begin with a legal encyclopedia such as Texas Jurisprudence. This encyclopedia set covers most of the legal topics that attorneys, judges, and pro se litigants are interested in. It is a valuable tool that helps rephrase Texas law in a more understandable style and refers you to relevant statutes, case law, and other legal resources.
There are a few ways to locate information in Texas Jurisprudence. We usually recommend patrons begin with the general index or the "words and phrases" index, but you can also find references to Texas Jurisprudence in other legal treatises and in Vernon's Annotated Codes. We also have a searchable electronic copy available on the library's computers. We're always happy to assist patrons with the use of library resources, so contact us with your questions at (512) 463-1722 or via our Ask a Librarian service.