"In a Nutshell" Titles at the State Law Library
August 16, 2022
Feature
---
Need a crash course in an area of law you aren't familiar with? Consider reading an "In a Nutshell" title to get acquainted with the basics. These brief titles available in West Academic give a succinct overview of a legal topic's background, major legislation, significant cases, and terminology. The Nutshell series is a great option for lawyers, students, or anyone searching for a quick introduction to a broad legal subject.
Nutshell Titles in West Academic
The library has more than 180 current Nutshell titles available remotely through the legal database West Academic. Users can access West Academic from home with their library username and password. If you don't have an account with us or need to renew your expired account, head to our Get a Library Account page first.
Once you've logged into West Academic, you can browse the Nutshell series directly:

From here, you can sort the titles by publication date, author, popularity, or alphabetically:

You can also search for a particular subject within your results: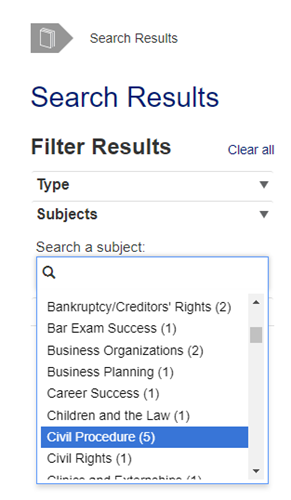 Older editions of Nutshell titles are also available for checkout in print or remotely through OverDrive. Check the catalog for a complete list of all of the Nutshell titles in the library's collection.
Selected Titles
From art law to toxic torts, there's a good chance a legal topic you are interested in is covered in a Nutshell title. Here are several selections from popular subjects:
Family Law 
Children and the Law in a Nutshell
Community Property in a Nutshell
Personal Property in a Nutshell
Landlord and Tenant Law in a Nutshell
Criminal Law & Procedure
The Law and Policy of Sentencing & Corrections in a Nutshell
Advanced Criminal Procedure in a Nutshell
Criminal Procedure: Constitutional Limitations in a Nutshell
Wills & Estate Planning
Introduction to Estate Planning in a Nutshell
If you need help finding a Nutshell title or have any other questions, feel free to get in touch with us!
---